HARVARD-AFFILIATED HOSPITALS EXAMINE ME / CFS PATIENT CARE
Ronald G. Tompkins, MD, ScD, co-director of the OMF-funded Harvard ME / CFS Collaboration, and collaborative team member, Amel Karaa, MD, are diving into the current state of care for Myalgic Encephalomyelitis / Chronic Fatigue Syndrome (ME / CFS) patients.
Tompkins and Karaa, together with OMF CEO/President Linda Tannenbaum, are bringing together a dozen Harvard-affiliated specialists to talk about the current state of care and explore new collaborations among these specialists. This group of doctors is committed to improving patient care and outcome and hopes to create models for others to replicate.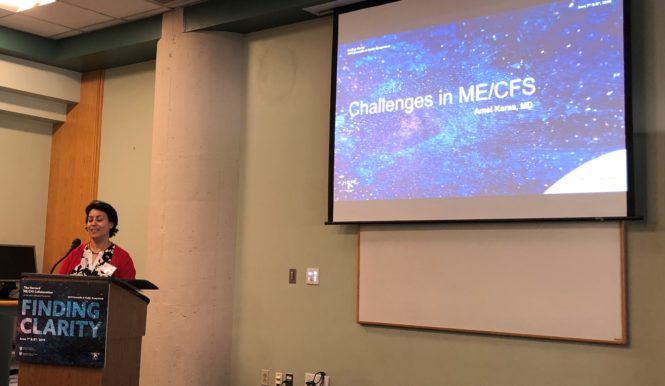 ---
THANK YOU TO OUR 3rd ANNUAL SYMPOSIUM & WORKING GROUP MEETING SPONSORS
OMF gratefully acknowledges the event sponsors of our 3rd Annual Community Symposium on the Molecular Basis of ME / CFS at Stanford University. Our sponsors help to underwrite these important meetings to help advance Myalgic Encephalomyelitis / Chronic Fatigue Syndrome (ME / CFS) research.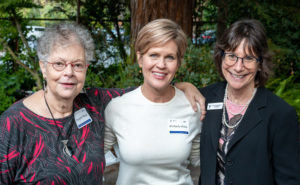 Thank you to our lead sponsor, devoted OMF board member, Dr. Deborah Rose, for her consummate support and leadership. (Deborah Rose, OMF Board Member Kimberly Hicks, Linda Tannenbaum)
---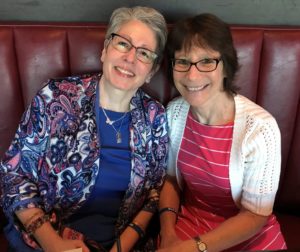 Thank you to OMF Community Ambassador Cindy Siegel Shepler for the many years she spent building the relationship between OMF and the American Contract Bridge League (ACBL) and to OMF Community Ambassadors Art Mirin and Beverly Weiss for their support in continuing to move this partnership forward. We are grateful to welcome ACBL and thank ACBL for their generous sponsorship. Read more.
---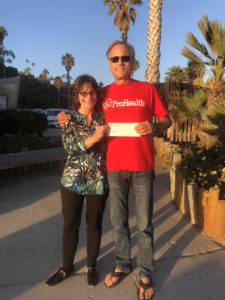 Thank you to Rich Carson, Founder of ProHealth, for supporting OMF's research and the entire ME / CFS community with education and resources.
The 3rd Annual Community Symposium followed three days of collaborative science meetings with over 60 researchers and clinicians. These meetings are critical to advancing open collaborative research around the world and sharing
Reminder: All presentations are available to view on the OMF YouTube Channel.
---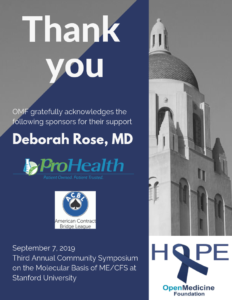 ---
WELCOME KATHLEEN MORGEN,
OMF VP of PHILANTHROPY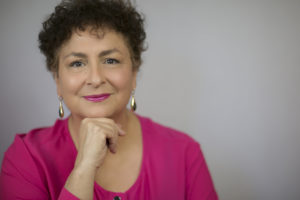 OMF is pleased to introduce and welcome Kathleen Morgen, our new Vice President of Philanthropy. Kathleen will work closely with Linda Tannenbaum to attract leadership gifts, needed to take research to a new level and allow for innovative research to continue uninterrupted and freed from financial stresses.
Kathleen Morgen comes to us most recently as the Principal of Morgen Lloyd & Associates, a full service consulting firm for non-profits, raising millions of dollars annually and offering a comprehensive menu of fundraising and management services. Throughout her 30+ year career, Kathleen has supported the growth and development of nonprofits and hospitals across California, strengthening their infrastructure and deepening their relationships with their constituents.
Kathleen is a great believer in and inspired by the transformational power of philanthropy, having seen the impact on both the giver and receiver, and is honored to be part of the OMF Team.
---
OMFCA Ambassador Jacqueline Ko Performance to be Livestreamed
Because she understands ME / CFS at a very personal level, OMFCA Ambassador and disability rights advocate Jacqueline Ko is committed to sharing opera with patients wherever they are.
Her company, Opera Mariposa, is launching their 2019-20 season with Puccini's Gianni Schicchi, and Jacqueline has arranged for the performances to be shared with ME / CFS patients through Livestream. Follow Jacqueline Ko and Opera Mariposa on Facebook to get the links once they go up. Show dates are Nov 15, 16, 22, and 23 at 7:30PM Pacific Time – the stream will only be available during the live performances and shortly afterwards, so tune in if you want to catch them!
Thank you, Jacqueline, for sharing this unique opportunity with our community.
Synopsis: Puccini's Gianni Schicchi is widely considered to be one of the funniest operas of all time. In this farcical family drama, the passing of old Buoso Donati sets off a frantic search for his last will and testament, as his greedy relatives compete to get their hands on his fortune at any cost. Opera Mariposa will present this one act-comedy alongside scenes and selections from other great Italian-language operas, such as La Traviata, Rigoletto, and The Marriage of Figaro. The production features a multi-award-winning cast from across three continents – learn more about the show (and get tickets to see a live performance if you're located near Vancouver, Canada) at https://operamariposa.com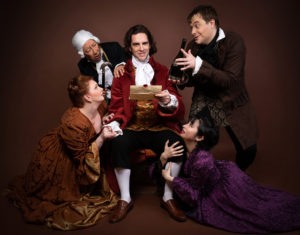 ---