Interview with Rachel Riggs
Creator of All in Good Taste 
Rachel Riggs has an innovative concept. She envisioned a cookbook designed by someone living with ME/CFS, tailored specifically for those dealing with ME/CFS and other chronic conditions.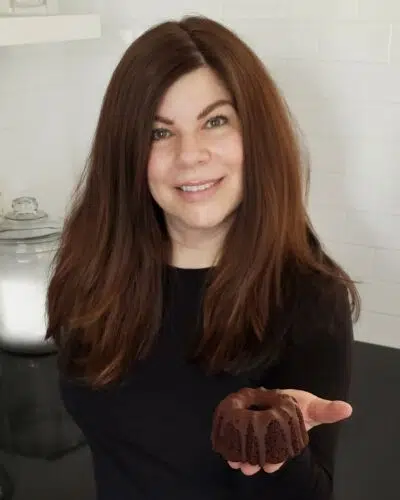 Today, we are thrilled to share an exclusive interview with Rachel about how this project came into fruition.
Support Rachel's project today at gofund.me/40c767fe. Your contribution, no matter how small, helps bring this vision to life and will make a significant impact on the lives of many.
Can you share about your journey living with ME/CFS and how it led you to create All in Good Taste?
They say necessity is the mother of invention. And well, it was out of necessity (and desperation) that I changed my diet and started preparing all my food at home. There was a steep learning curve, and like others in the ME/CFS community, I had to learn how to make meals that accommodated an ever-growing list of foods that I no longer tolerated – and with so little stamina to do so. The situation felt very bleak initially. But with that first win – a dead-simple, coconut milk-based pot de crème – came the confidence to keep trying. And slowly, I began to compile a solid repertoire of new dishes. 
The idea to write a cookbook wasn't a new one. In 2011, I had signed on to write a book about artisan cheeses and cheese shop accouterments. But ultimately had to back out when I could no longer pretend that those foods weren't trying to kill me. Experiencing some success with these new dishes reignited that fire in me… one I thought had been extinguished forever.  
Can you elaborate on the unique challenges you think people with chronic illnesses face when it comes to meal preparation and eating healthily?
Ugh, so many. First, healthy food is expensive. Whole foods, particularly organic produce and quality proteins are sometimes out of reach for us financially. I've made it a priority because it's what my challenged body demands, but it has impacted us financially, for sure. And then there's the matter of preparation.
We know that the healthiest food comes from our own kitchens, but most of us don't have the stamina to do much cooking. Strategies like batch cooking and breaking the prep into small tasks throughout the day need to be employed. There's no way I could show up to the kitchen at dinnertime and whip up a meal all at once. I start in the morning by washing vegetables. And each time I go to the kitchen for a glass of water I will accomplish something such as making a salad dressing. If I'm taking the time to make dressing, I make enough to last for several days. This way, when dinner rolls around it's usually a simple process.
How does All in Good Taste specifically cater to individuals with chronic illnesses and food allergies?
There are many small acts that collectively add up to a more accessible process. I don't use any heavy equipment such as Dutch ovens or stand mixers – I cannot lift those things. Each dish is approached in a more expedient way because that's the only way I can manage to cook for myself. One of my biggest challenges in preparing meals is the protein source. So, I suggest always having something available like a rotisserie chicken or roasting a chicken in advance and freezing individual portions in glass jars.
There are smoothies and soups that don't require any chewing, because sometimes even that is too much – and they deliver a lot of nutrition with a very minimal process of chopping and blending. The soups all freeze well, so you never have to worry about having too many leftovers if you're cooking for one or two.
There are almond flour cakes which are nutritious and contain a good bit of protein – and those are all mixed in a single bowl with a whisk and contain very few ingredients. My "every day cake" contains four main ingredients, only takes 10 minutes to get into the oven, and holds up in the fridge for a whole week. And yes, I eat a slice every day!
In your view, what is the importance of having a cookbook like All in Good Taste available to those living with chronic illnesses?
People with chronic illnesses grieve many losses – people with ME/CFS are no strangers to this. Many experience a growing list of food intolerances, an inability to leave the house, diminished energy, and punishing payback when doing too much. As a result, nutritional quality decreases. A loss of foods from the diet due to intolerances can add to a sense of monotony. I wanted to create a cookbook that holds all these pieces. I wanted to inspire people with simple and nutritious recipes and restore a sense of connection with one of life's greatest pleasures – preparing and enjoying a good meal, whether for yourself or to be shared with others. 
What were some of the guiding principles or ideas you followed while developing the recipes for All in Good Taste?
Unfortunately, my stamina is limited, and my body has become a dictator — so I'm led primarily by my limitations. Food intolerances are highly individual but after spending several months adhering to an elimination diet, the foods that I've omitted from my recipes are: gluten, grains and pseudo-grains, dairy, soy, nightshades (eggplant, tomatoes, peppers, and potatoes), legumes, squash, spinach, pork, shellfish, refined sugar, artificial sweeteners, cashews and peanuts.
Can you give our readers a little sneak peek into some of the recipes that will be featured in the cookbook?
I would love to! There are cakes, brownies and cookies made with almond flour and sweetened with maple syrup. There's what I call the "Everyday Smoothie" which is a fast and easy way to start the day and can be whipped up in seconds. There are several creamy soups – because chunky vegetable soups feel punitive to me (just a personal preference!).
They all contain loads of veg that gets simmered and then blended with coconut milk into a luxurious and nutritious soup. Shredded chicken can be added to any of them to make it a complete meal. There are energy balls to keep stashed in your freezer for a quick and healthy bite. And there are many salads with delicious dressings, several ways to make fish (including four salmon dishes) and a slow cooker recipe for a big batch of French Onion Beef that freezes well and can be served over one of the four types of mash in the book.
There are creamy dips made from vegetables. And for those days that you cannot bear to stare down another plate of veg, a salad smoothie that's fresh and lemony, and packed with nutrients. Lastly, there are recipes that allow you to create a simple holiday spread: a raw cranberry relish, roasted chicken with vegetable mash, French green beans with orange and toasted hazelnuts, and for dessert: dark chocolate tahini truffles, pecan pie truffles and coconut macaroons. 
100% of the royalties from the cookbook are being donated to Open Medicine Foundation. Can you share why you decided to do this and why you chose our foundation specifically?
OMF is a reliable and trusted organization, and Linda Tannenbaum is as tenacious as ever in her search for a cure for ME/CFS. I've spent the last seven years as a volunteer with the Naviaux Lab, and OMF has helped fund some of Dr. Naviaux's research. OMF also helps fund Dr. Ron Davis' research, and there are some exciting developments happening there that I'd like to help fund.
You mentioned that without the necessary funds for photography, your cookbook may not come to fruition. Can you tell us more about why the photography aspect is so crucial to the project?
These days cookbook readers often read cookbooks like novels, drooling over the photographs – feeding our fantasy life more than our stomachs. I admit, I purchase cookbooks that I know I'll never cook from. For many people it's aspirational. We all dream of whipping up gorgeous food for the people we love but are either limited by time or in our case, by illness. 
Beautiful photography sells cookbooks! And the broader the appeal and better the sales, the more research dollars it will generate for OMF. 
Cookbooks are very expensive to produce. That's because of all the production costs such as color printing, thick glossy pages, many rounds of editing, design, hardcover, etc. So, when a publisher makes an investment in a first-time author like me who only has a small platform – meaning I don't have 300k Instagram followers or a big YouTube following – they expect me to invest too, by pitching in for photography. I will not have an opportunity to recover those funds because I've committed the book royalties to OMF. 
I'm reliant on the generosity of our community to get this cookbook across the finish line, and I am grateful for all who have offered their support!
---

Help get All in Good Taste to the finish line! Contribute to the fundraiser here: https://gofund.me/40c767fe
Can't donate? Please share the link with your friends and family or post on social media! 
Be sure to follow Rachel on Instagram at @cleaneatingfoodist.